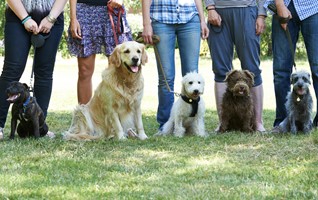 The benefits of owning a dog are immense, but the importance of training them effectively and from the beginning can't be overstated.
Assuming you're adopting a healthy, happy puppy from a reputable breeder or pet shop, then training should only require some basic knowledge and a lot of patient repetition.
Well treated puppies and dogs are not only eager to please their owners, but are often quite intelligent and relatively easy to train.
If you're not an experienced dog owner, there are several options for making sure your dog gets the proper training it needs.
Dog obedience classes are often available locally through pet stores, dog daycare centers, and individual trainers. In many cases, dog owners actively participate in the classes so they can learn the training and behavioral modification techniques they'll need to use at home. It's generally a good idea to research two or three local dog training services before deciding on the one that would best serve your needs, your training goals, and your budget. Since dogs are like members of the family, it's important that you feel comfortable with the dog trainer's personality, their level of experience, credentials, and rapport with you and your dog.
How-to manuals, training videos and websites are available for dog owners interested in taking on more of a DIY approach to dog training. You can pick up a lot of free tips and training techniques from articles, blogs, and free videos online, but apply the same quality standards to an online expert that you would with an in-person trainer. They should be experienced, patient, professional, and credible. In most cases, it's pretty obvious whether those qualities are present, especially when you've viewed online videos from several sources and have points of comparison.

Network with other dog owners you know to compare notes, training techniques, and behavior modification tips. In general, dogs respond favorably to patient repetition of verbal commands and visual prompts, enthusiastic praise when they get it right (positive reinforcement), and, of course, dog treats.
Among your first training priorities will be house breaking, having your dog come when called, and teaching them to sit on command. Although occasional house breaking accidents may occur, the sooner your dog understands the necessity of letting you know when they have to relieve themselves outside, the better it will be for your floors, your furniture, and your family! Side note: Crate training is a method many dog owners swear by.
There are effective and ineffective ways to train your dog and curb undesirable behaviors, so it pays to do some online research, get a dog training manual or DVD, take classes with your dog, and/or hire a professional dog trainer. If you just try to train your dog based on logic, general knowledge, and intuition, both you and your dog will end up feeling frustrated with the process and the outcome.