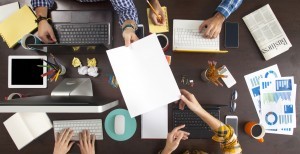 What does it take to generate interest in your home from the right homebuyers at the right time? Marketing is paramount, and using all of the marketing tools at your disposal will make it easier for any home seller to connect with prospective homebuyers consistently. Today, many high-quality marketing tools are readily available to home sellers, including:
1. Social Media
Facebook and other social networks now empower home sellers to share details about their residences with homebuyers from around the world. Furthermore, social media is free and easy to use, making it a powerful tool to add to your home selling arsenal. Social media, of course, only ranks as an effective marketing tool if you understand how to leverage it properly. For instance, you'll want to include high-resolution photos of your home with any social media content. You also will want to respond to homebuyers' questions quickly as these queries are posted on social networks, as this may help your home stand out in a crowded real estate market.
2. Virtual Tours
Imagine what it would be like if a homebuyer could take a walk through your home even if he or she were many miles away. Thanks to virtual tours, home sellers are able to offer homebuyers a distinct home showing experience, one that is sure to make a long-lasting impression. Before you set up a virtual tour, be sure to consult with a real estate agent. This professional will be able to help you stage your home properly and ensure it looks great to any prospective homebuyer during a virtual home showing.
3. Email Updates
Work with your real estate agent to ensure your home is included in any email blasts that he or she sends out. By doing so, you'll be able to maximize your marketing reach and ensure that many homebuyers can learn about your residence immediately. Any email notification should include relevant information for recipients. Therefore, you should ensure that information about your home is included only in email blasts that go to homebuyers who are likely to be interested in your residence. For example, an email blast that is sent to luxury homebuyers should not include information about a tiny house that is now available, as this residence is unlikely to generate significant interest. On the other hand, highlighting your two-bedroom house in an email update sent to first-time homebuyers and small families may be ideal. By doing so, you may improve your home's chances of garnering substantial attention from homebuyers without delay. The home selling process continues to evolve, and thanks to best-in-class technologies, home sellers possess advanced tools they can use to showcase their residences at all times. Discover the benefits of first-rate technologies and be sure to use them as part of your home marketing efforts. With these tools, you'll be better equipped to accentuate the positives of your residence to homebuyers globally and boost your chances of obtaining multiple competitive offers for your house as well.